Sale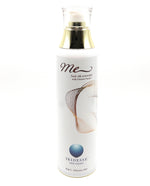 ME BODY SILK RESTORATION 150ml / 5 fl.oz. 
Powered with Genesis Factor®, powerful antioxidants and nourishing Ceramides, Iridesse® Me helps energize, nourish and promote healthy looking skin. This body silk restoration provides all over hydration, which absorbs quickly in a non-greasy formula.
Genesis Factor®: Proprietary blend of active ingredients designed to enhance skin repair and natural growth of collagen and elastin.
SKIN TYPES: Dry, Normal
SKIN CONDITION: Dehydrated, Aging, Bruised. 
PRODUCT DETAILS
Iridesse Me has an advanced formula to help enhance the production of new collagen and elastin to address skin laxity, texture, and crepiness. 
Unique growth factor stimulants which promote cellular repair
Contains ceramides and niacinamides to help repair the skin's natural moisture barrier 
Visible anti-aging benefits, such as the improvement of the appearance of crepey skin and increase firmness.
Non-greasy formula
Contains Arnica to reduce bruising 
---
HOW TO USE
Apply liberally to body twice daily with particular attention to arms and legs. 

This product is for external use only. Discontinue if irritation occurs. Keep out of the reach of children. 
The Iridesse® Skin Care's proprietary blend of phospholipids, ferulic acid, and patented slow release Vitamin C enable penetration of nutrients through superficial skin layers to deeper dermal skin cells. The phospholipids in Iridesse® products stimulate those cells to produce new collagen and elastin in abundance. Result? Fresh, plump, tight, radiant skin with smooth texture and tone. Iridesse® has proven this in laboratory trials and imaging.
The Iridesse® Skin Care line addresses this issue of cellular reprogramming via a unique deeply penetrating process with ingredients targeted for stimulating new collagen. Our unique penetrating formula allows clinically tested & carefully selected ingredients to stimulate fibroblasts, which then reprogram skin with a higher quality of collagen and elastin.


Volunteers of varying ages applied Iridesse® cremes twice daily to one side of their face and arms. For comparison control, the opposite side was left untreated. Results were measured weekly using STT. All volunteers displayed increases in the production of new skin collagen averaging 24.25% in just three weeks.
Skin test sites also had visibly plumper, smoother, and more radiant results. Lasers that measure elasticity demonstrated a reduction in skin laxity of 17% at three weeks. This demonstrated objectively the unique beneficial tightening and toning seen with Iridesse® Skin Care products.
Laxity Results
Group average laxity change with use of Iridesse®Night Nutrient
Decrease of approximately 15% in cheek laxity with application twice a day for 3 weeks
Decrease of approximately 17% in forearm laxity with application twice a day for 3 weeks
Elasticity Results
Group average elasticity change with use of Iridesse®Night Nutrient
Increase of approximately 27% in cheek elasticity with application twice a day for 3 weeks
Increase of approximately 8% in forearm elasticity with application twice a day for 3 weeks
Niacinamide
Niacinamide works with your skin to help visibly improve uneven skin tone, wrinkles, dullness, sun damage, and weakened skin barrier. 
Ceramides
Ceramides help hold skin together by forming a protective lipid layer to limit moisture loss and protect against environmental aggressors. 
---
   CELEBRITY OPINION