Sale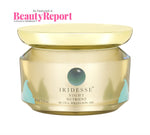 IRIDESSE® NIGHT NUTRIENT CREAM 60ml/2 fl.oz.
This advanced cream promotes cellular repair mechanism (Genesis Factor®) in a unique approach to anti-aging, while providing potent hydration, and patented peptides for radiance and smoothness. Designed with Genesis Factor®.
Genesis Factor®: Proprietary blend of active ingredients designed to enhance skin repair and natural growth of collagen and elastin.
SKIN TYPES:  Dry, Normal, Sensitive, Post procedure
SKIN CONDITION:  Dehydrated, Aging
PRODUCT DETAILS
Iridesse® Night Nutrient promotes radiance, smoothness and repair through its unique patented peptides and proprietary phospholipid complex. The stimulation of growth factors and slow release patented vitamin C accelerates cellular repair mechanisms. This is a unique anti aging approach. Visible results are immediate.
Reverses the day's weather and environmental damage
Visible anti-aging benefits, such as the improvement of fine lines and wrinkles, firmness, and brightening skin's complexion
Enhances skin elasticity and promotes stronger, fresher collagen
Contains patented peptides and unique growth factor stimulants
Restores hydration and nutrients to improve the look of skin firmness
Maximizes skin recuperation and rejuvenation after laser and radio-frequency procedures
---
HOW TO USE
Once a day, after cleansing, massage a thin, even layer onto the entire face, neck, and chest while avoiding eye area.

Complete your regimen with our other Iridesse® products. When used together, our products provide protection against visible aging caused by environmental aggressors, and stimulate growth of elastin and collagen.
The Iridesse® Skin Care's proprietary blend of phospholipids, ferulic acid, and patented slow release Vitamin C enable penetration of nutrients through superficial skin layers to deeper dermal skin cells. The phospholipids in Iridesse® products stimulate those cells to produce new collagen and elastin in abundance. Result? Fresh, plump, tight, radiant skin with smooth texture and tone. Iridesse® has proven this in laboratory trials and imaging.
The Iridesse® Skin Care line addresses this issue of cellular reprogramming via a unique deeply penetrating process with ingredients targeted for stimulating new collagen. Our unique penetrating formula allows clinically tested & carefully selected ingredients to stimulate fibroblasts, which then reprogram skin with a higher quality of collagen and elastin.
Volunteers of varying ages applied Iridesse® cremes twice daily to one side of their face and arms. For comparison control, the opposite side was left untreated. Results were measured weekly using STT. All volunteers displayed increases in the production of new skin collagen averaging 24.25% in just three weeks.
Skin test sites also had visibly plumper, smoother, and more radiant results. Lasers that measure elasticity demonstrated a reduction in skin laxity of 17% at three weeks. This demonstrated objectively the unique beneficial tightening and toning seen with Iridesse® Skin Care products.
Laxity Results
Group average laxity change with use of Iridesse®Night Nutrient
Decrease of approximately 15% in cheek laxity with application twice a day for 3 weeks
Decrease of approximately 17% in forearm laxity with application twice a day for 3 weeks
Elasticity Results
Group average elasticity change with use of Iridesse®Night Nutrient
Increase of approximately 27% in cheek elasticity with application twice a day for 3 weeks
Increase of approximately 8% in forearm elasticity with application twice a day for 3 weeks
Ferulic Acid
Known for its superior antioxidant benefits, ferulic acid neutralizes free radicals and enhances the antioxidant benefits and stability of vitamins C and E.
Alpha-lipoic acid
Alpha-lipoic acid (ALA) is unlike any other antioxidant, in fact, 400 times more powerful Vitamin C and E. It helps with inflammation in the skin, skin repair as well as free radical protection, helping to reduce and treat the signs of aging, such as fine lines, wrinkles and sagging, as they also help to promote the formation of collagen. ALA also enhances the skin's exfoliating capacity, so that your skin cells can shed naturally with fewer building up. Alpha-lipoic acid penetrates not only the skin, but the skin cell membrane too, where it can deliver these potent antioxidants at a deeper cellular level.
---
 CELEBRITY OPINION