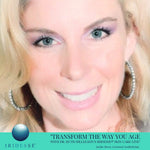 Advice from a Licensed Aesthetician
Invest in your biggest asset, your skin.  Your skin is your largest organ.  And how do you treat it?  Are you using all-natural ingredients on your skin?  Have you had laser treatments?  Do you know if your products are penetrating beyond the epidermal layer?  Is your biggest asset being invested in, or ignored?
Ingredients are most important, naturally.  You should be using natural, high quality ingredients to enhance the health and function of your skin.  The real advantage of using natural (vs. synthetic) products is that they enhance the skin's natural function; working in synergy with your skin by utilizing active ingredients that help optimize regeneration.
Penetration at its core.  When you apply your skin care product, it encounters the uppermost layer of skin, which is called the stratum corneum.  (It is important to understand that this outer layer is dead). So, if the products you use on a daily basis aren't penetrating beyond the stratum corneum, is your skin really getting the product's full benefits?  The answer is no.  But, there is a skin care line that serves as more than a product, it serves as partner in breakthrough skin care solutions.  Iridesse® Skin Care is uniquely designed to allow its ingredients to get right to work, passing easily through the skin's protective outer barrier to activate the skin's rejuvenating mechanisms for visibly thicker, more lustrous, more iridescent skin.
Iridesse® helps protect your investment.  Skin care or "topical therapy" is a modality of treatment for the skin just like lasers. If you have a laser treatment, it is essential to "protect your investment" by using quality skin care products post treatment.  Iridesse® Skin Care is an exclusive collection of luxury, anti-aging products that help diminish fine lines and wrinkles, facilitate healthy new collagen and elastin production, revive skin elasticity and enhance skin moisture.  As a general rule, after a laser treatment the skin should be kept moist until healed.  Correctly caring for you skin, under the guide of your doctor, is essential for an optimal result.  Iridesse® is ideal for post laser treatments and aids in producing undeniable results.
Your skin is an awesome organ.  It has a strong repair mechanism and a huge forgiveness quotient so it's never too late to start taking care of it.  Begin today and transform the way you age with Dr. Ruth Hillelson's Iridesse® Skin Care line sold at American Self Plastic Surgery in Richmond, VA.
Jackie Suver, Licensed Aesthetician