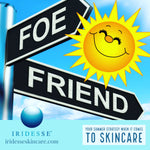 Is the Sun our Friend or Foe? 
We have a lot to thank the sun for: warm summer days, ample Vitamin D; a more beautiful life on earth!  When it comes to your skin, the sun isn't always very kind.  From sun burn to skin cancer and everything else in between (premature aging and pigmentation change) we are constantly trying to combat the effects of the sun's rays.
For Dr. Ruth Hillelson, creator of Iridesse® Skin Care, her years as an equestrian provided the inspiration behind her luxury line of all-natural products.  
"While riding horses, your skin is exposed to sun and environmental damage which unleashes free radicals and inflammation.  The sun and wind can really dry out and damage skin.  I realize there are many skin care products out there, but not all products penetrate the dermis which was my dream.  I started developing my skin care line with ideas and formulae in mind, and then collaborated with biochemists and bioscientists," said Hillelson. 
Seeing the effects of spending hours in the elements made the decision easy to give her patients an honest product that can really help people. 
"I think there's really a technological revolution happening in skin care at this time and I'm really proud of Iridesse®," Hillelson said. "These products don't sit on your skin. The treatment creams penetrate to accelerate collagen production, firmness and health." 
And while a revolution is happening in the skin care industry, the fundamentals of skin care remain.  Understanding is the best prevention on the market, so let us help you the next time you find yourself in the sun! 
Ultraviolet Rays & Their Effects
The sun emits ultraviolet (UV) rays, which attack skin cells causing them to become damaged, destroyed or inflamed.  In defense of this the skin produces melanin (a brown pigment) that to some degree protects you from the sun and is the reason we get a tan.  Often many skin cells die during this process (whether you burn or tan), resulting in peeling and harm to the skin.
Over time, the effects of ultraviolet rays can be devastating.  Early aging, skin cancer, damage to the DNA is skin, weakened elasticity causing premature wrinkling and sagging and brown spots (not freckles) add to an aged appearance and "leathery" texture due to sun damage.
Iridesse® 101: Infrared rays has recently been implicated in damage and aging as well.  Free radicals are formed when sun damage occurs and inflammation becomes apparent.  Good news!  Iridesse® creams contain both potent antioxidants and potent anti-inflammatory ingredients. 
Preventing and Reversing Sun Damage
Sun damage is cumulative and the effects of the damage sometimes do not appear until later in life - even if you have been diligent with sun protection during your adult years.  This is why it is so important to always protect your skin from the sun.
The best way to prevent sun damage is to be diligent about sun protection.  Using (and reapplying) the correct sunscreen when spending time outdoors is the first line of defense.  Hats, sunglasses, and other protective accessories/articles of clothing are another important preventative measure.
Though prevention is important, skin will almost always experience some type of sun damage.  It's important to know the best options for improving or reversing damage. 
"Patients and consumers need to be keenly aware of nourishing their skin and protecting it from damaging environmental factors, as well as the aging process. Lifelong smart skin care will result in glowing and radiant skin in the later years. Surgery alone cannot provide the youthful look towards which we all aspire." 
Iridesse® 101: Strategic skin care is vital!  In order to make sure Iridesse® was in a league of its own, Dr. Hillelson spent 5 years researching and testing the effects of her products on skin elasticity, strength, new collagen formation, radiance, and changes in laxity.   What came from this was a line of products that contain all-natural ingredients that penetrate to the deeper layers of skin affecting true skin health and skin nutrition while simultaneously promoting firm and luminous skin. Research continued to find that skin healed better (and faster) in patients who groomed appropriately and with products of quality, natural ingredients with Iridesse® being the clear solution. 
Partner with the Right Skin Expert
Even if you've been exposed to a lot of sun damage throughout your life, it's not too late to get healthier skin with a youthful glow. There are so many options for improving the look and feel of your skin - you just need to find the right skin expert to help you design a treatment plan.
If you're young with beautiful skin, you can still benefit from partnering with an expert—you'll have the opportunity to prevent early aging and maintain beautiful skin long term.
Iridesse® 101: Our family of products are just that, a family - each have their own individual characteristics but really work best together. Let us show you our family tree so you can get better acquainted with our DNA. 
Iridesse® Night Nutrient: diligently works the night shift while you sleep
      - Contains patented peptides and phospholipid enhanced skin structure reagents
      - Reverses the day's weather and environmental damage
      - Traps deep skin moisture for surface smoothness, firmness and radiance
      - Maximizes skin recuperation and rejuvenation after laser and radiofrequency procedures
Iridesse® NEW Day Brilliance: an elegant daily cellular science creation
      - Sustained release of Vitamin C, alpha-lipoic acid, Ferulic acid and CoQ10
      - Vanquishes free radicals
      - Contains patented peptides and growth factor stimulants
      - Unsurpassed deep skin moisturizer
 Iridesse® Eye Love It®: creates a new appearance for your eyes
      - Specific patented peptides and slowly released Vitamin A
      - Enhances skin elasticity and promotes stronger, fresher collagen
      - Antioxidants to reduce dark circles and shadows
      - Smooths fine lines from age and squinting

Iridesse® Kiss: the one of a kind lip rebirth to Kiss with confidence
      - Contains all-natural ingredients
      - Restores lip softness, moisture, and a bit of plumpness
      - Rejuvenates lip texture
      - Able to use over or under or without lipstick 
Iridesse® Skin Care is more than simply a line of products (even though we are really proud of them), Iridesse® is your partner in breakthrough skin care solutions.  We continue to improve to meet the needs of our patients in this ever-evolving marketplace.  We let our passion for solutions guide us while our proficiencies in skin care, research and plastic surgery ground us. 
 Visit our website at www.iridesseskincare.com to read more about our brand and purchase any of our products or just come into American Self (9930 Independence Park Dr. #101, Richmond, VA 23233) to purchase Iridesse® in person!