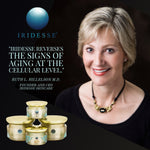 Family, friends, colleagues and patients,
It is my pleasure to share with you a passion project (and products) I have developed with scientists as part of my ongoing mission to create all-natural, anti-aging skin care solutions not currently found in the medical grade marketplace or retail cosmetic lines.  
My happiest professional moment is being able to help my patients overcome what they consider to be overwhelming physical obstacles to improve their lives.  I believe that health, beauty and optimal wellness can be preserved by preventative measures and timely medical intervention.  The creativity and ever changing technology, techniques and applications are what I love most about my profession and it is an honor to be able to share my passion with you.   
The most inspirational thing I have learned while developing Iridesse® Skin Care is to never underestimate the power of listening.  I specifically designed Iridesse® to stimulate the production of new, abundant and superior quality collagen and elastin because my patients demanded solutions that would help reverse the signs of aging without surgery.  My patients tell me that my skin care products have significantly improved their skin's radiance, fine lines and laxity and I will continue to work to meet their needs as an accomplished plastic and reconstructive surgeon, and as well as their partner in skin care.   
The future of skin care will see an enormous increase in the capability of technology and technological approaches, and the future is now.  Iridesse® Skin Care is formulated with the finest, all-natural ingredients combined with cutting-edge science for a complete skin rejuvenation system that promotes a proactive approach to keep your skin smoother, firmer, and healthier.
The Process
The skin serves as the body's primary shield against the outside world, but this barrier can also stand in your way by inhibiting helpful ingredients from being properly absorbed.  Iridesse's® skin care technology is uniquely designed to allow for its ingredients to get right to work, passing easily through the skin's protective outer barrier and activating the skin's rejuvenating mechanisms for visibly thicker, more lustrous, more iridescent skin of which you can be proud and confident.
The Products
The core collection of luxury, anti-aging skin care products:
Iridesse® Day Brilliance
Iridesse Day Brilliance focuses on replenishing deep skin hydration, vanquishing destructive free radicals and reducing the appearance of fine lines and wrinkles through the promotion of collagen & elastin fiber formation.
Iridesse® Night Nutrient
Rescue your skin from the harsh environment and Father Time! Iridesse is an all natural potent cocktail of anti-inflammatories, antioxidants, patented peptides, and timed release vitamins. Dermal penetration promotes hydration, radiance, and skin tightening. Night Nutrient is a favorite for all ages and skin types.
Iridesse® Eye Love It™
If the eyes are the windows to the soul, this is the hand that opens the window: contains patented peptides and slow release Vitamin A, enhances skin's elasticity, promotes stronger, fresher collagen, and diminishes the appearance of dark circles.
Iridesse® Kiss
Not just a lip gloss, it's a lip rebirth: a one of a kind lip treatment, unique formulation, promotion of moisture, plumpness and rejuvenation.
Dr. Ruth Hillelson, M.D., F.A.C.S.