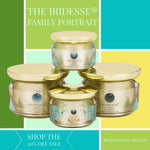 The Iridesse® Family Portrait
Iridesse® is a one-of-a kind brand, with superior products created to fulfill both a need and a want and not simply to fill space in an already saturated marketplace.
In order to continue to be more than just a product (but a skincare partner) to all of our clients, we use our experience in the field of skin health to create breakthrough anti-aging solutions that deliver radiance and confidence for all. 
Iridesse® was created by team of consultants devoted to making their patients and consumers a priority, because that is what they demand and that is what they deserve.
It was because of this commitment to creating superior skin care solutions that 4, one-of-a-kind products emerged; each with their own set of ingredients formulated to penetrate to the core of aging issues.
Asking us to pick our favorite would be like asking us to choose our favorite child.  So instead let us introduce you to our family of products and we will let you decide!
Iridesse®: skin care products, partner in breakthrough anti-aging solutions
Each unit is 100% all-natural, biochemically developed, researched and clinically tested, which is an Iridesse® requirement.
 Iridesse® Day Brilliance: A balance of ageless beauty and cellular science
Powerhouse of antioxidants, patented peptides, and growth factor stimulants
Replenishes deep skin moisture
Vanquishes destructive free radicals
Reduces fine lines and wrinkles
Promotes new collagen and elastin fiber formation
Includes time release Vitamin A for radiance without irritation 
Restores skin's original luster
Customer Feedback: "I have been using Iridesse® for a little over a year and my skin looks healthier and has a glow I haven't seen since high school. I tried many different products, but they seemed to just sit on top of my skin, continuing to leave my skin feeling dry. Now I have radiant skin that feels smooth all day long." Peggy H.
Bottom line: Your sidekick (more like a superhero) in combating the daily environmental sneak attacks on your skin.
Iridesse® Night Nutrient: Redefines the meaning of "Beauty Sleep"
Contains patented peptides and molecular skin structural reagents
Moisturizes for smoothness and radiance
The perfect treatment for smoothness, firmness, and skin health
Enhances healing after laser procedures. 
Customer Feedback: "I feel that most products sit on top of my skin and make my skin oily and irritated. Iridesse® Night Nutrient is quickly absorbed and I feel it doing it's magic under my skin. It's very unique and feels amazing. Iridesse® is my liquid gold!" Caroline P.
Bottom Line: While you sleep Night Nutrient goes to work to reverse (and rescue) your skin from compounded environmental damage.
Iridesse® Eye Love It®: If the eyes are the windows to the soul, this is the hand that opens the window
Contains uniquely patented peptides, antioxidants and slow release Vitamin A
Enhances skin's elasticity and promotes stronger, fresher collagen
Diminishes fine lines caused from years of squinting & environmental factors
Reduces the appearance of dark circles
Customer Feedback: "I have been using Iridesse® Eye Love It® for over 6 months, but my friends noticed a difference after 2 weeks. My skin is more radiant and it feels more moisturized and smoother. My eyelid area is brighter and tighter and lines have softened and some have even disappeared." Susan E.
Bottom Line: Sleep is no longer enough to "rest your eyes," now they can be refreshed with something stronger than sleep.
Iridesse® Kiss: Not just a lip gloss, it's a lip rebirth
One-of-a-kind lip treatment compounded with all natural ingredients
Unique formulation that gives your lips moisture, plumpness and rejuvenation
Soothes and eliminates soreness from dryness or irritation
Customer Feedback:

"I've used skincare products from all over the world, but I can definitely say that Iridesse® is very unique. I absolutely love it!" Diane F.
"Kiss has eliminated the irritation on the corners of my mouth in addition to making them fuller and sexier." Cathy P.

Bottom Line: We could have called this a lip balm, if it was just a lip balm, but since it nourishes, rejuvenates and plumps we called it Kiss.
IRIDESSE DAY AND EYE
IRIDESSE DAY AND EYE