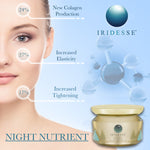 Iridesse® Skin Care: beauty product and lifestyle partner
Iridesse® was created as a solution promoting true skin health and beauty for patients not currently benefiting from the millions of products in the marketplace.
A one-of-a kind product named after the one and only Greek goddess Iris, the personification of rainbows and messenger to the gods. Radiant, ever changing and soft, Iris inspired a name that stands for new objectives in beautiful skin.
Iridesse® is committed to creating breakthrough skin care solutions. We are more than a simply product, we are a partner in your skin care regime.
The new brand on the block.
Dr. Ruth Hillelson, celebrated plastic surgeon, worked closely with research biochemists to develop products rooted in the latest, proven skin care solutions.  Because of this, Iridesse® Skin Care is a line of products that would uniquely penetrate the superficial layers of the epidermis and stimulate the viable cells of the dermis to produce NEW collagen.
The slow death of skin cells.
All skin types begin to deteriorate quickly from an early age.  It is a constant (losing) battle to protect your skin from exposure to drying air, ultraviolet sunlight, radiation and harsh airborne chemicals.
 As skin cells begin to perish in these harsh environments, they stop producing collagen necessary for skin to stay plump and soft.  The epidermis grows thicker, less flexible, making it impenetrable to nutrients needed to bring cells back to life.
Iridesse® breaks the barrier.
While conventional cosmetics simply hide or mask the underlying aging of skin, Iridesse® penetrates to the core of the aging issue.  Our formulated ingredients, identified through biochemical research, are absorbed through the epidermis and function as carriers of cellular stimulants to the deeper cellular layers.  The cells then "wake up" and synthesize new collagen and elastin molecules in abundance.
It's how nature intended it, originally. 
The proof is in the collagen production.
Iridesse® is not a fluke.  Science and technology are rooted and absolute and the developers of Iridesse® Skin Care are medical scientists and researchers.
Optical engineers who developed See Through Technology (STT), a breakthrough technology that can actually "see" collagen molecules in living tissue, were employed to measure change in collagen molecules after the daily usage of Iridesse® Skin Care.  Using the angles of light refraction from skin's collagen molecules, new collagen was assayed optically.
Volunteers of varying ages applied Iridesse® Night Nutrient to portions of their skin, with results measured with STT.  All volunteers displayed increases in the production of new skin collagen averaging 24.25% increase in just three weeks. 
Skin test sites also had visibly thicker, smoother, softer, more radiant results.  Lasers that measure elasticity showed new collagen and elastin production of 17% in just two weeks. 
Iridesse® works. It's the science behind it. You can't fool Mother Nature.
Doctor, Richmond local, legend: Dr. Ruth Hillelson, M.D., F.A.C.S.
Dr. Ruth L. Hillelson is a renowned, board certified plastic surgeon who has been practicing in Richmond, Virginia since 1985.
She completed her undergraduate coursework at The Johns Hopkins University, where at the age of 18 she was Project Director of an NSF grant. She furthered her medical school education and research training at Harvard Medical School and Brigham and Women's Hospital in Boston. 
In 2006 and 2007, Dr. Hillelson won the National Pinnacle Award for Non-Invasive Radiofrequency. 
Dr. Hillelson is currently Director of Plastic Surgery and Aesthetics at American Self in Richmond, Virginia.
Laxity Results
Group average laxity change with use of Iridesse® Night Nutrient
Decrease of approximately 15% in cheek laxity with application twice a day for 2 weeks
Decrease of approximately 17% in forearm laxity with application twice a day for 2 weeks
Elasticity Results
Group average elasticity change with use of Iridesse® Night Nutrient
Increase of approximately 27% in cheek elasticity with application twice a day for 2 weeks
Increase of approximately 8% in forearm elasticity with application twice a day for 2 weeks